Vol.05 – Autumn 2020
On the cover:
Meadow of flowers in full bloom?
The initiation of cephalic furrow in the Drosophila embryo. This enigmatic structure appears only transiently and yet precisely during development. Its function remains unclear. Green marks the cell membrane and magenta is the cell nucleus.
Image: Lab for Epithelial Morphogenesis
BDR Times is also available in print. You can download PDF from here. Some articles may be shortened in the printed version.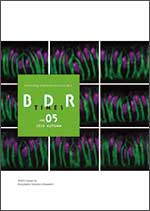 Download PDF (0.9MB)