Vol. 03 – Winter 2019
On the cover:
Inside view of a cell captured by electron microscopy. Structure in grey is the nucleus, and structures in yellow and other colors are mitochondria. Mitochondria show wide variation in sizes and shapes, and are crammed tightly in the cell.
Image: Lab for Cell Field Structure
BDR Times is also available in print. You can download PDF from here. Some articles may be shortened in the printed version.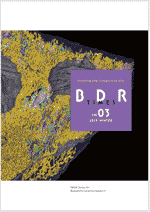 Download PDF (1.1MB)