Vol.04 – Spring 2020
On the cover:
Cytochrome protein containing heme (ribbon diagram) moving in water (tiny v-shaped lines). Snapshot from a simulation calculated by supercomputer MDGRAPE-4A.
Image: Laboratory for Computational Molecular Design
BDR Times is also available in print. You can download PDF from here. Some articles may be shortened in the printed version.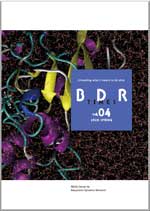 Download PDF (2.8MB)