Outreach activities
November 2019 to February 2020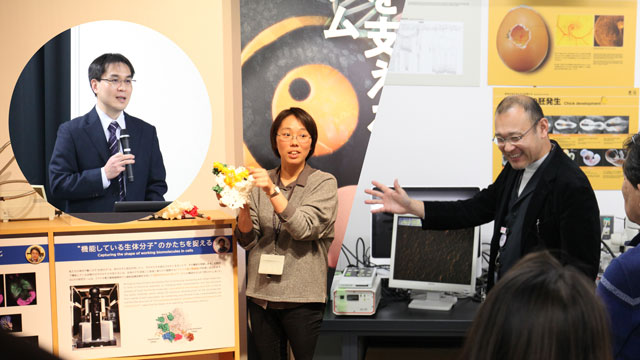 Life science workshop for high school teachers
On Saturday, February 8, the BDR, together with the Hyogo Prefectural High School Educational Committee for Biology, co-organized an event focusing on research at the BDR through a lecture and facility tour for high school biology teachers. The theme of the program was on molecular imaging using radioisotopes, and featured a lecture by Hisashi Doi, team leader of the Laboratory for Labeling Chemistry, as well as a tour of the facilities such as the organic synthesis laboratory, compact cyclotron, and PET/CT scanner for small animals. The participants were also given the opportunity to visit the BDR Gallery and mock laboratory to learn about the latest research related to the central dogma as well as model organisms by observing displays of a molecular model of RNA polymerase, and organisms such as C. elegans.
---
Science Fair in Hyogo
On Sunday, January 26, the annual Science Fair in Hyogo, an event organized for students attending high schools in Hyogo prefecture, was held at Nichii Gakkan Port Island and Konan University's FIRST Campus. Special Postdoctoral Researcher Genshiro A. Sunagawa (Lab for Retinal Regeneration) presented a poster at the event, which in addition to the students' presentation also has a session for local organizations with links to science to present their activities. He interacted with the students by introducing his research on hibernation and responding to their questions(top image).
---
Female scientist meets with female high school students
On December 19, Wakana Iwasaki, senior research scientist in the Lab for Translation Structural Biology, gave a talk to a group of 26 students from an all-girls high school in Tokyo that visited the Yokohama Campus. She talked about how she became a scientist as well as about what it is like to work as a scientist, and also answered questions from the group.
---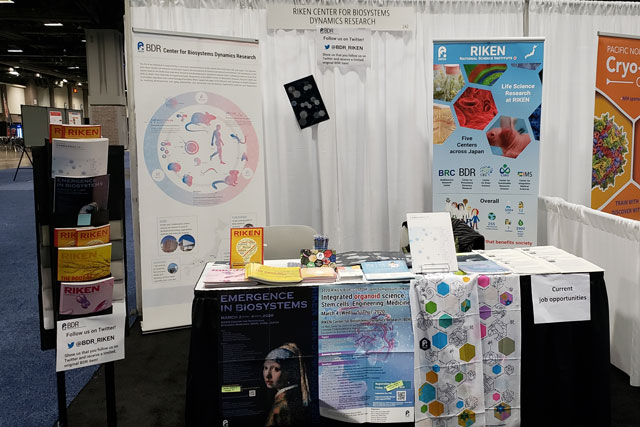 Booth at academic meetings
RIKEN BDR organized booths at two different academic meetings; the 42nd Annual Meeting of the Molecular Biology Society of Japan held in Fukuoka, Japan, from December 3 to 6, and the 2019 American Society for Cell Biology-European Molecular Biology Organization Joint Meeting held December 7 to 11 in Washington, D.C. Visitors to the booth could find information on job openings and the latest research from BDR.
---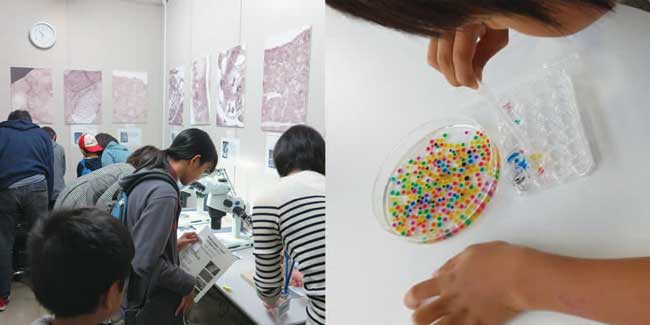 Open house at Kobe and Osaka Campuses
The annual Open House event was held at the Kobe Campus on Saturday, November 9, and at the Osaka Campus on Saturday, November 23. These Open Houses are the largest annual events organized to invite the public to come and interact with researchers and staff working at BDR and learn about what and why they do what they do. The laboratories located on the respective campuses organized a range of different events for the public to enjoy. Over 2,000 visitors dropped by to each of the campuses.
---
Lohas Festa Banpaku 2019 Autumn
On November 3, RIKEN BDR took part in the Lohas Festa that was held at the Expo '70 Commemorative Park (Banpaku Kinen Koen) by organizing a booth and holding a science-themed button badge making workshop. The badges, which had images of animals related to research at BDR, were popular with kids and adults alike.