Vol.12 – Winter 2023
On the cover:
A blue sun?
This is an aggregate of neural stem cells and the outflow of these cells from the aggregate. At high densities, neural stem cells align their elongated shapes and radially crawl out of the aggregate. Their weak clockwise cell motility becomes accentuated at the collective migration level, resulting in the appearance of a spiral formation that is visible to the naked eye.
◎Credit: Nonequilibrium physics of living matter RIKEN Hakubi Research Team
BDR Times is also available in print. You can download PDF from here. Some articles may be shortened in the printed version.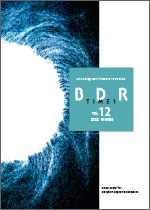 Download PDF(4.2MB)