Research Highlights
Research highlights articles and press releases between July 2021 to October 2021. Read these and other articles on the BDR website.

Persistent current-mode operation of NMR magnet with high-temperature superconducting joints
Sep 24, 2021
Superconducting nuclear magnetic resonance (NMR) magnets made from coils of wire that have been cooled to extremely low temperatures can sustain and maintain continuous current flow without being connected to an external power supply. NMR instruments makes use of the powerful magnetic field generated by NMR magnets to obtain information on structural and molecular dynamics of biological macromolecules or other materials. In 2018, Yoshinori Yanagisawa (Lab for Functional Ultra-High-Field Magnet Technology), Toshio Yamazaki (Lab for NMR Engineering and Structural Science) and their colleagues succeeded in developing the world's first NMR instrument with a magnet incorporating high-temperature superconducting (HTS) joints made from REBCO. They have now demonstrated for the first time that their NMR magnet with HTS joints can maintain and operate the instrument with a stable persistent current for an extended period (at least two years) with a magnetic field of 400 megahertz (MHz).
Yanagisawa Y, Piao R, Suetomi Y, et al. Supercond. Sci. Technol. 34, 115006 (2021)
---
Supercomputer simulations reveal how protein crowding in cells impacts interactions
Oct 21, 2021
Kasahara K, Re S, Nawrocki G, et al. Nat Commun 12, 4099 (2021)
---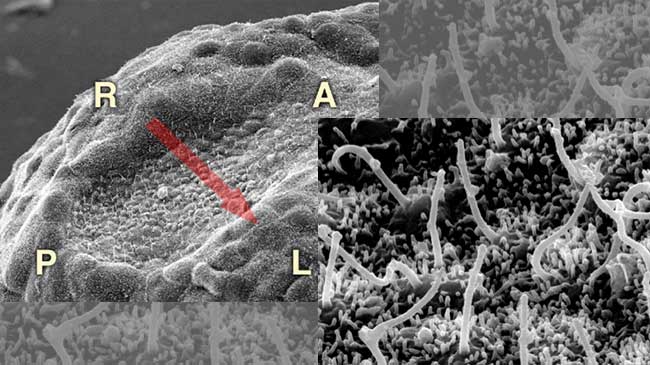 mRNA degradation induced by fluid flow breaks left–right symmetry in vertebrates
Oct 18, 2021
Minegishi K, Rothé B, Komatsu KR, et al. Nat Commun 12, 4071 (2021)
---

A telescopic model of the development of hair follicles
Oct 6, 2021
Morita R, Sanzen N, Sasaki H, et al. Nature 594, 547-552 (2021)
---
Genome editing meets marsupials
Jul 22, 2021
Kiyonari H, Kaneko M, Abe T, et al. Curr Biol 31, 3956-3963.e4 (2021)
---
Basement membrane underpins tissue interactions in the skin
Jul 20, 2021
Tsutsui K, Machida H, Nakagawa A, et al. Nat Commun 12, 2577 (2021)
---